Healthcare Seminar: Peering Over Another Cliff
Date: 3/8/2013
Time: 8:00 AM TO 10:00 AM
Four Seasons Resort & Club
4150 N. MacArthur Blvd
Irving, TX 75038
Phone:
(214) 217-8484

---
Event Description: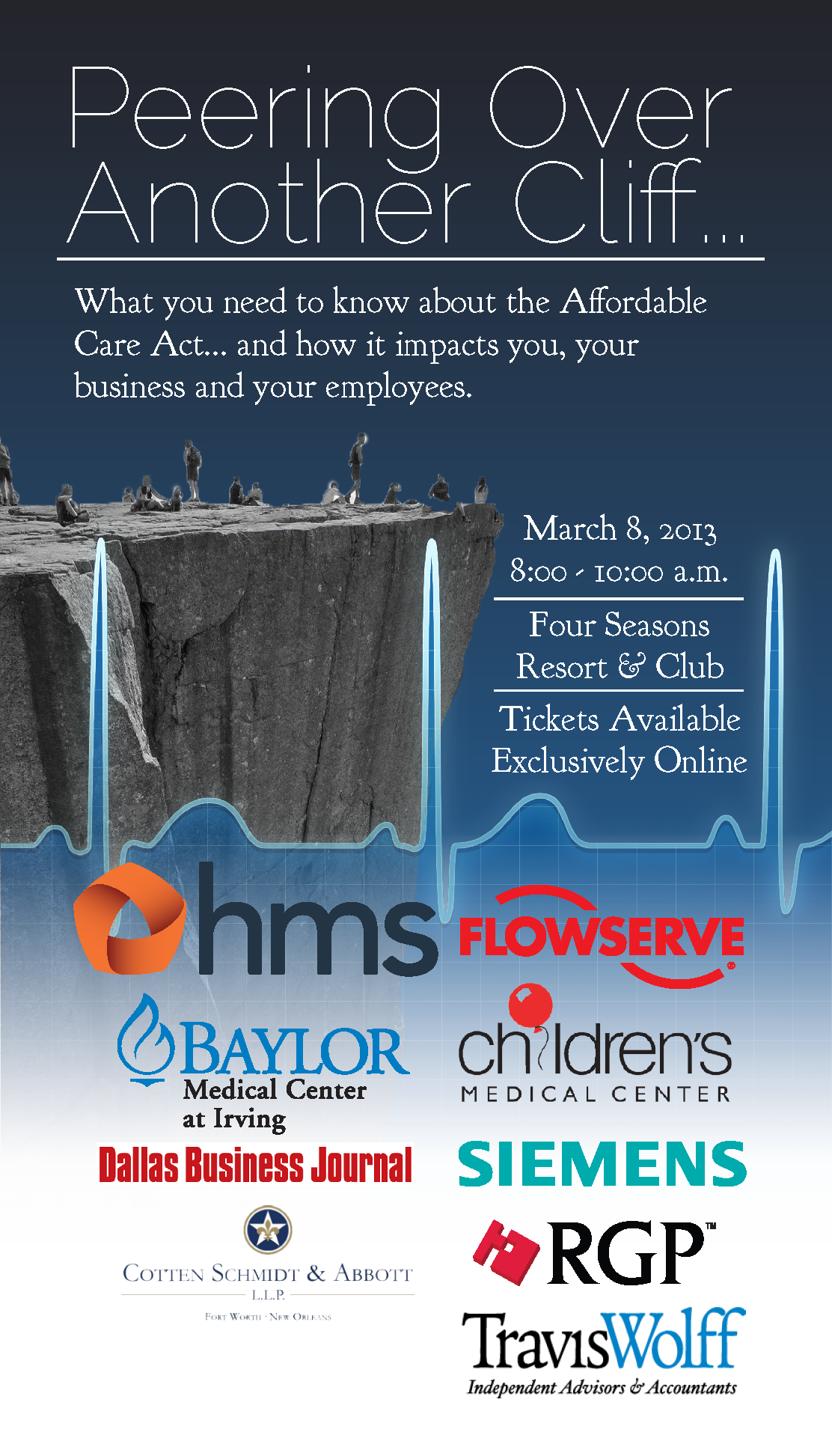 Join your Chamber and a panel of experts for this seminar which will address the looming questions about the Affordable Care Act and how it impacts you, your business and your employees.
The topic will be discussed over breakfast on March 8th from 8:00 – 10:00 a.m. at the Four Seasons Resort & Club in the Cottonwood Room. Special member pricing is $50 per individual ticket or $65 for non-members.
Quarterly events are held throughout the year and are geared towards public policy, economics, local issues, and other timely business interests. The focus of this Quarterly Breakfast is the Affordable Care Act and how it effects your business.
Click Here to Register
Sponsorships are also available. Contact Don Williams at (214) 217-8484 or
dwilliams@irvingchamber.com
for more information.
Partner Sponsor: One (1) VIP table (8 seats) with corporate signage, Corporate brand on Event Signage and Programs, Recognition of sponsorship via video loop (4 slides), Recognition from podium as Quarterly Breakfast Partner Sponsor, Recognition in Chamber Newsletter, Recognition on www.irvingchamber.com Quarterly Breakfast page and event recap
Supporting Sponsor: One (1) table (8 seats) with corporate signage, Corporate Brand on Event Signage and Programs, Recognition of sponsorship via video loop (1 slide), Recognition from podium as Quarterly Breakfast Supporting Sponsor, Recognition in Chamber Newsletter, Recognition on www.irvingchamber.com Quarterly Breakfast page and event recap