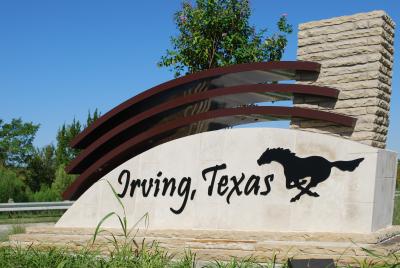 The following revenue opportunities are available from the City of Irving:
058V-17 Purchase, Service and/or Repair Transmissions
057V-17 Starter, Alternator & Electric Motor Repair & Exchange
055M-17F Professional Services for Twin Wells Golf Course Renovation Design
063V-17 Digital Media Buy Services for ICVB
059V-17 Media Monitoring/Reports & Premium Media Research Database Service for ICVB
CSJ #0092-07-059 (CITY ITB #015D-17F) Landscape Median Enhancement SH 356 , Arlington Dr to N Rogers
069M-17F Rehabilitation of the 2.5 MG Perry EST
044D-17F CDBG-Funded Paving Project
066M-17F Fire Department Bunker Clothing
For additional information, go to http://www.ci.irving.tx.us/bids.aspx, or contact the City's Purchasing Department at 972-721-2631.
The City of Irving will be transitioning to a new e-procurement system. Please be sure to pre-register your company by clicking on the following link – https://cityofirving.ionwave.net/Login.aspx. 
You may also receive e-mail notices directly for formal ITB and RFP/RFQ solicitations by the City by completing the Bidder's Notification located at http://www.ci.irving.tx.us/bids.aspx.
The City of Irving ranks at the top of North Texas suburban cities in securing contracts for minority and women-owned businesses. For more information on the City's MWBE program, please go to http://www.ci.irving.tx.us/523/Minority-Women-Business-Enterpri
Presented by City of Irving