For months, Perry Sook couldn't sleep. He spent a lot of restless nights in the same manner, staring at the ceiling, unable to relax. Alone with his thoughts at 3 a.m., he couldn't help but wonder if his company would pull off the biggest acquisition in its 20-year history. "I can tell you," said Sook, CEO, founder and chairman of Nexstar Broadcasting, "it was the most interesting 122 days of my life."
The cause for Sook's restlessness? Nexstar was trying to acquire Media General, another broadcasting company based in Richmond, Virginia.
To top it off, for the first time in Nexstar's history, it had made an unsolicited offer, which was rejected. Not long after that, Media General announced it was planning to acquire Meredith Corporation. But Media General's shareholders didn't share the company's enthusiasm. They preferred to keep talking to Nexstar.
Sook and his executive team were more than happy to oblige. In doing so, Nexstar was able to secure the confidence of Media General's shareholders and board, locking up the acquisition in January.
The purchase, which makes Irving-based Nexstar the second largest broadcasting company in the nation behind only Tribune Broadcasting, was for $4.6 billion.
Not as well-known in Dallas-Fort Worth as other media companies, Nexstar earned nearly $900 million in annual revenue last year. The lack of notoriety for such a fast-growing company could be because it doesn't actually own a television station in North Texas — or big markets in general, for that matter.
Nexstar has a presence in only six of the top 50 U.S. markets. Nexstar finds its greatest success in mid-sized markets, such as Waco, El Paso, Syracuse, New York and Shreveport, Louisiana.
That will change with the Media General acquisition, which has at least one station in 15 of the top 50 markets. The purchase will puts Nexstar's annual revenue between $2.3-$2.5 billion and will give them a total of 9,000 employees, Sook estimates.
The merger continues a five-year trend of consolidation and change in the broadcast industry. Five years ago, there were 33 broadcasting companies. Now, when the Nexstar-Media General acquisition finalizes, there will be 15. Sook expects the deal to finalize sometime in September or October. And industry analysts expect that number to keep shrinking as companies struggle to compete for viewers and advertisers on the traditional TV format.
"What are these broadcasters' strategies for being more on mobile phones?" said Sachin Shah, a merger arbitrage strategist at Albert Fried & Co. "What is their strategy for being not focused on watching live TV?"
Nexstar's strategy
Nexstar isn't the only company Sook has founded. In 1991, after working for years in the radio and television industries, he founded Superior Communications at his kitchen table. For 14 months, he scoured the country looking for television stations to buy and money to buy them.
"It's been alternatively described as a kamikaze mission or a stroke of genius," Sook said. "It was probably a little bit of both."
With the help of investors, Sook put together enough money to buy two stations for $23 million and knew he wanted to buy them, fix them, and flip them for a profit. That's what he did, as he sold them three and a half years later for $63 million. Sook rolled that capital base over to start Nexstar in 1996.
The mission in those early years was the same as what Nexstar does now — stress local content. The company openly avoids being a "video jukebox," as Sook termed it, and just play syndicated episodes of TV shows, importance is placed on local news and local programming. Sook said Nexstar increases the amount of local content provided by a television station by an average of 25 percent after it takes over.
For instance, when Oprah Winfrey was a national phenomenon with her widely popular show, Nexstar took Oprah out in eight of the 10 markets she was previously playing in. The replacement? A local newscast.
There wasn't as much ratings success, but the television stations had more engagement with their viewers. That led to local news and, even though it was more work, it eventually became more profitable than airing Oprah.
Nexstar strategically focused on mid-sized markets because stations in the big markets like New York, Chicago or Los Angeles don't come up for sale very often. And when they do, the networks can pay a higher price for the station than Nexstar can.
"It was a classic case of what my dad says, 'Hunt where the ducks are,'" Sook said. "And the ducks and available opportunities were in the medium-sized markets. And by the way, the money is just as green in Wichita Falls as it is in Dallas. There might not be as much of it, but there's also fewer folks to get it."
Media General discussions
After Media General rejected Nexstar's initial offer and announced it was acquiring Meredith, Sook started to hear grumbling from Media General shareholders. Media General had previously sold its publishing assets and become primarily a television broadcasting company, just like Nexstar.
Meredith, on the other hand, had a lot of its assets in publishing like Better Homes and Gardens magazine and Parent magazine. Media General shareholders didn't want to get back into the publishing game, so shareholders began asking Nexstar to make another offer. The acquisition had to be voted on by both companies' shareholders, allowing Nexstar an avenue to try again.
And 122 days after Nexstar's offer went public, the deal was finalized. Sook was confident early on that Nexstar had won over the shareholders. Now they just had to convince the Media General board.
Sook said it was frustrating at first, because a lot of conversations were occurring between lawyers and things were moving slowly. But once the executives started talking, the pace picked up. Conversations started to happen on the weekends and eventually the Christmas holiday. Sook started to gain confidence that the deal was going to happen.
"We wouldn't have entered a fight we didn't have a very good chance of winning, let me put it that way," Sook said.
The new company will be named Nexstar Media Group Inc. and have a reach of 171 television stations in 100 markets, according to a January statement from Nexstar.
As part of terminating the proposed merger between Meredith and Media General, Meredith will receive a $60 million termination fee and will have the chance to negotiate the purchase of certain broadcast and digital Media General assets.
The new Nexstar will reach 38.9 percent of the U.S. television market, which is right at the Federal Communications Commission's regulatory threshold of how big an audience a broadcasting company is allowed to reach. To stay in compliance, Nexstar announced in June that it, along with Media General, was selling five television stations.
The future of broadcasting
Sook thinks eventually there will be around six to eight Nexstar-sized companies in the market, with the three big companies — Tribune, Nexstar and Sinclair — leading the way.
Why has there been so much consolidation? Sook said the broadcasting industry is mature, and mature industries consolidate. Plus, the benefits of reducing corporate overhead and increasing buying power are all positives.
Shah, the analyst at Albert Fried & Co., also thinks the number of broadcasting companies is going to continue to consolidate.
But the motivations aren't just behind saving efficiencies, he says, it's also because the industry is facing significant pressure from the decreased importance of the local nightly news to the American public as they turn to the internet to get their news.
For example, political advertisements are a big part of any broadcasting company's revenue during a popular election year. Sook said this year when Hillary Clinton and Donald Trump square off in the November presidential election, Nexstar will earn about $100 million in political advertising revenue. Last year, it only made $15 million.
During a popular election cycle like this one, political ads are the second highest source of advertising revenue after automobile advertising for Nexstar. During an off year, political ad revenue isn't even in the top 10.
But social media and overly generous news cycles are making it possible for candidates such as Trump to communicate with voters without putting financial resources into an ad blitz.
"When you have these kind of things, that's why these guys are merging," Shah said. "…You can own 50 stations, you could own 100 stations, but the audience is listening less and their influence is not the same as it was over the past 40 or 50 years. The next five or 10 years, [the broadcast landscape] is going to change as it has for print media."
Sook is aware of the changes of the industry. Nexstar has multiple revenue streams. In 2015, local advertising revenue accounted for 39.8 percent of the total revenue, national advertising revenue was 16.5 percent and retransmission compensation was 32.1 percent.
When Sook started Nexstar, he said 100 percent of the company's revenue came from television advertising. Combining the local and national advertising revenue for 2015, it accounted for 56.3 percent of its revenue. He expects in the near future that number to dip below 50 percent.
Sook said Nexstar is less concerned about what screen his company's content is viewed on, whether it be mobile, laptop or television. But about half of the company's page views come from mobile, while only 15 percent of the digital revenue is from mobile devices.
"We, like Facebook and everyone, are trying to figure out how to monetize and create monetization opportunities for the shift in digital usage," Sook said.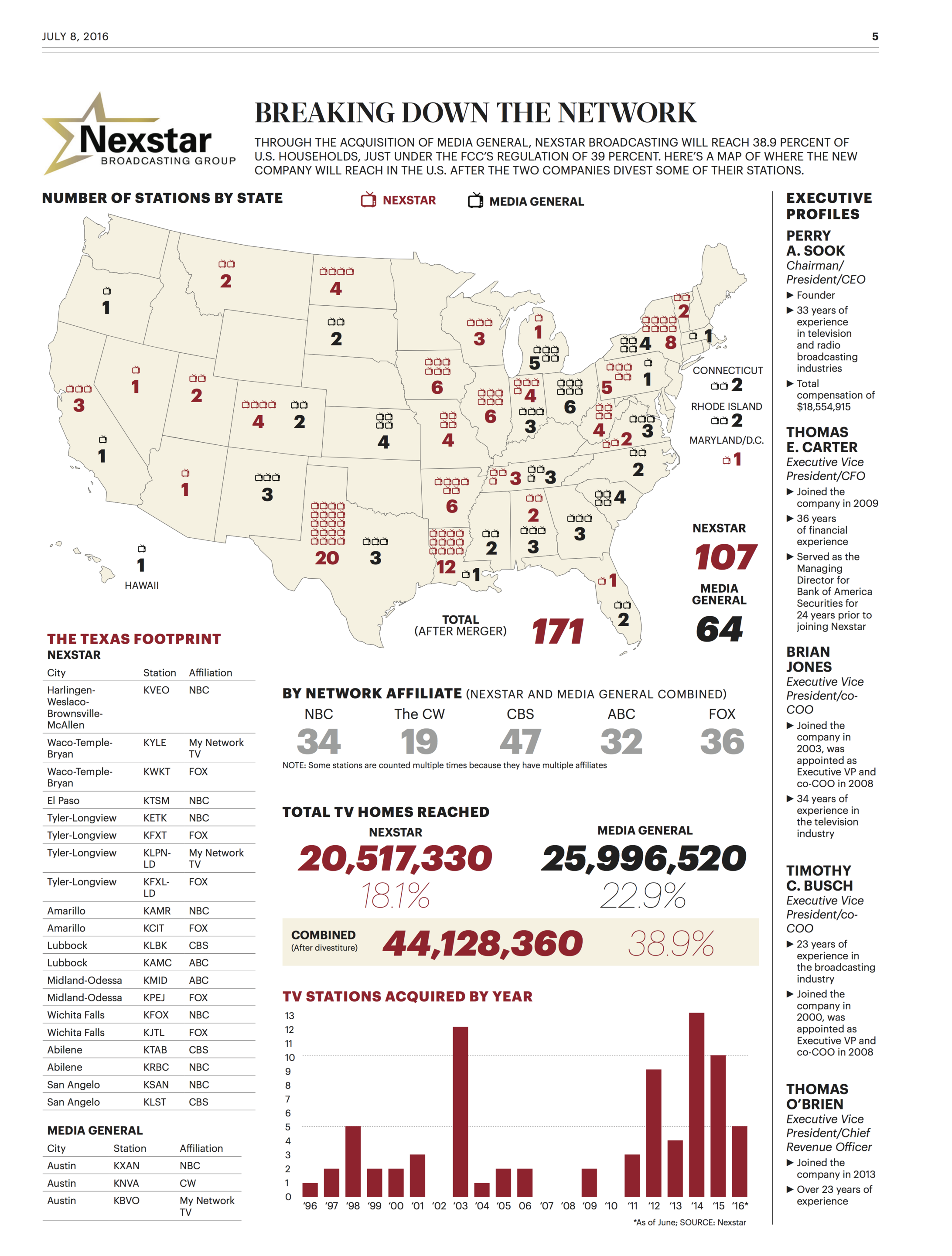 Presented by Dallas Business Journal
Editorial interns Jessica Bryant and Paul Wedding contributed to this report.
Evan Hoopfer is the Dallas Business Journal's digital reporter.